Public Lectures CAS Regenerative Materials
26. Januar 2023
28. Februar 2023
29. März 2023
09. Mai 2023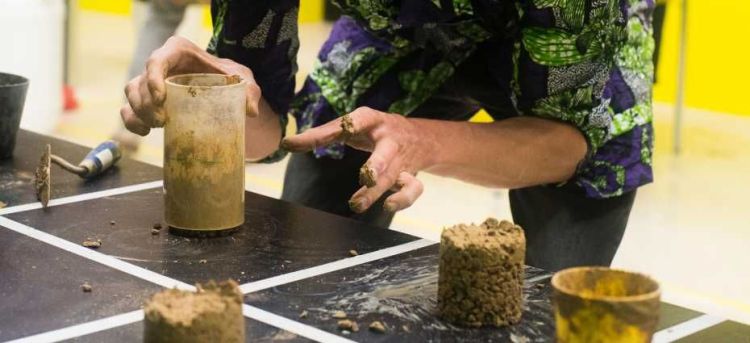 After three successful editions in 2020 - 2022 the CAS ETH in Regenerative Materials is back for a fourth chapter. Like the others, this edition will be colorful and full of interesting encounters.
In each Module, we will invite you to public lectures broadcasted online. Here are the dates:
Tuesday 9.5.2023 - 13h30 (UTC+2)
Corentin Fivet
REUSE AND STRUCTURAL APPLICATIONS

Corentin Fivet is Professor of Architecture and Structural Design at EPFL, since 2016. Previously, he worked for two years at the Massachusetts Institute of Technology in Cambridge, USA. Corentin Fivet holds a Master in Architectural Engineering and a PhD in Engineering Sciences from the Université catholique de Louvain, Belgium. At EPFL, Corentin Fivet is heading the Structural Xploration Lab to develop environmentally responsible building systems. Bridging the gap between architecture and structural engineering, the lab explores more sustainable implementations of load- bearing materials, new design methods for resource - efficient structural typologies, and exemplary historical practices of structural design.
In this lecture he will talk about reusing building parts, focusing on design processes involving the reuse of load- bearing elements, with case studies from the Structural Xploration Lab.
Recorded Lecture: Corentin Fivet
Wednesday 29.03.2023 - 16h30 (UTC+2)
Eike Roswag
TRANSFORMING NATURAL BUILDING TRADITION
One of the initiators and directors of ZRS Architekten Ingenieure Berlin and chair of the Natural Building Lab at TU Berlin, for more than 20 years, Eike Roswag has been researching climate and resource adaptive, human architecture in different climatic zones, which forms the basis for his teaching, design and construction projects.
His projects demonstrate a great variety and range from schools out of earth and bamboo in the global south, over heritage rehabilitation project in the Middle East and Europe up to housing, production buildings and schools out of timber, earth and natural fibre insulation in Europe.
His research is focused on climate and cultural adaptive architecture with a specific emphasis on low-tech building systems. The projects he has worked on were awarded with the Aga Khan Award 2007, KAIROS Europäischer Kulturpreis 2015, Holcim Award 2011, Gold in Asia Pacific and others.
Tuesday 28.02.2023 - 14h (UTC+1)
Roger Boltshauser
BUILDING REGENERATIVE IN EAST-SWITZERLAND
Roger Boltshauser (*1964) graduated from the Swiss Federal Institute of Technology Zurich (ETH) in 1995 and founded Boltshauser Architekten AG in Zurich the following year. Currently, a team of around 75 employees works on projects in all phases and a second office was opened in Munich in 2021. For their work, Boltshauser Architekten have received several awards, as in 2022 the 'DETAIL-Award' for the Kiln Tower for the Brickworks Museum.
In addition to his practice, he was a teaching at EPF Lausanne, the University of Applied Sciences Chur (HTW), Anhalt University of Applied Sciences (DIA), Chur Institute of Architecture (CIA) as well as at the TU Munich. Since 2018, he is a guest professor at ETH Zurich.
Roger Boltshauser will present the challenges he encounters in his architectural practice in East-Switzerland when using regenerative Materials.
Recorded Lecture: Roger Boltshauser
Thursday 26.1.2023 16h30- 15h00 UTC+1
Andrea Klinge
CIRCULAR CONSTRUCTION
ZRS Architekten Ingenieure was founded in 2003 as an integrated design and engineering partnership in Berlin.
They have developed their key competency in the use of natural building materials, primarily timber, earth and bamboo. With ambitious clients and partners, their projects aim to promote the innovative usage of local and renewable materials both at home and abroad.
Their comprehensive experience of planning and supervising the construction of earth building projects is regularly requested by both other architecture and design offices, as well as construction firms around the world.
Andrea Klinge studied at the TU Berlin and London Metropolitan University, where she specialised in sustainable building. She worked in various architectural offices in London, Rome and Berlin. Since 2013, Andrea Klinge has been working for ZRS Architekten, where she established and heads the research department. Since 2022 she is professor of circular construction at the FHNW.
Recorded Lecture: Andrea Klinge

Welcome to join!

More info:
https://sc.ibi.ethz.ch/en/education/continuing-education.html
CAS Regenerative Materials Broschüre 2023

Social media:
Videos:
Vimeo: https://vimeo.com/showcase/8368798
Public lectures: https://vimeo.com/showcase/9279484
Veranstalter
ETH Zurich
Chair of Sustainable Construction