Public Lectures CAS Regenerative Materials
25. Januar 2022
27. Januar 2022
04. März 2022
04. April 2022
06. April 2022
17. Mai 2022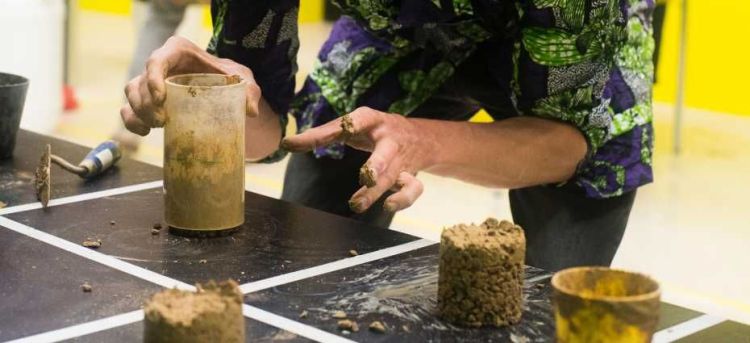 After two successful editions in 2020 & 2021 the CAS ETH in Regenerative Materials is back for a third chapter. Like the others, this edition will be colorful and full of interesting encounters.
In each Module, we will invite you to public lectures broadcasted online. Here are the dates:
Bio-based Construction
Tuesday 17.5. 16h30-17h30 (UTC+2)
Catherine De Wolf
Digital innovation towards a circular built environment
Zoom link
As Assistant Professor of Circular Engineering for Architecture at the Swiss Federal Institute of Technology Zurich (ETH Zurich), Prof. Catherine De Wolf is conducting research on digital innovation towards a circular built environment. She is the director of the Chair of Circular Engineering for Architecture (CEA). The CEA lab is an interdisciplinary team of civil engineers, architects, urbanists, and computer scientists who collaborate towards automating the reuse of building materials. Catherine De Wolf is also the founder of De Wolf Environmental Architecture Thinking. A key element in Catherine's work is ensuring a continuous link between academia and industry. Therefore, she works with real-world examples such as the Centre Pompidou in Paris.
Monday 4.4. 13h30-14h30 (UTC+1)
Anna Heringer
SUSTAINABLE BEAUTY
Zoom link
For Anna Heringer architecture is a tool to improve lives. As an architect and honorary professor of the UNESCO Chair of Earthen Architecture, Building Cultures, and Sustainable Development she is focusing on the use of natural building materials. She has been actively involved in development cooperation in Bangladesh since 1997. Her diploma work, the METI School in Rudrapur got realized in 2005 and won the Aga Khan Award for Architecture in 2007. Over the years, Studio Anna Heringer has realized further projects in Asia, Africa, and Europe. These projects were widely published and exhibited, and have received many prices. Anna is lecturing worldwide at conferences, including TED and has been visiting professor at various universities such as Harvard and ETH Zurich. She
will present some of her projects using bio-based materials and explain why for her sustainability is a synonym for beauty.
Wednesday 6.4. 16h30-17h30 (UTC+1)
Pete Walker
RESEARCH ON BIO-BASED MATERIALS AT U-BATH
Zoom link
Pete Walker joined the University of Bath in 1998. He was promoted to Professor in 2006, and he is currently Director of the research Centre for Innovative Construction Materials. His current research interests include bio-based construction materials, materials for improved indoor air quality, and innovative timber engineering. He focuses on the development of low carbon technologies suitable for new and retrofitting applications. He will present an overview of his work on bio-based construction materials and technologies, including straw bale, hemp-lime, structural use of cork, and the development of circular solutions. Examples of practical applications will also be taken from a range of construction projects.
Earth
Friday 4.3.2022 9h- 10h30 UTC+1
Mu Jun
MACHA COMMUNITY CENTER
Zoom link
Prof. Mu Jun is an Architect and the head of Department of Architecture in the School of Architecture, Xi'an University of Architecture and Technology. Graduated from The Chinese University of Hong Kong, he has practiced as an architect in several rural sustainable construction projects. His specialty is in Raw Soil Buildings and Sustainable Design Architecture. He will focus on few projects, as the recent Macha village center, and give an overview of what he did in terms of research, practice and education.
Introduction
Tuesday 25.1.2022 16h30- 17h30 UTC+1
Dominique Gauzin- Müller
INSPIRING REGENERATIVE MATERIAL ARCHITECTURE
Zoom link
Dominique Gauzin-Müller is a French architect. She is Honorary Professor of the UNESCO Chair "Earthen Architecture, Constructive Cultures and Sustainable Development", and lecturer in several schools of architecture around the world (Strasbourg, Marrakech, Linz, ETH Zürich). She also initiated and coordinated the TERRA Award (2015/2016), the FIBRA Award (2018/2019), and the TERRAFIBRA Award (2020/2021), the first world prizes for contemporary architecture using earth and bio-based materials. In addition, she co-authored the Manifesto for a Happy Frugality in 2018.
We will travel with her on all the continents to discover the most inspiring examples rewarded by these prizes underlining the link they have with the principles developed in the Manifesto for a Happy Frugality.
Recorded Video: Dominique Gauzin-Müller
Thursday 27.1.2022 16h30- 17h30 UTC+1
Pierre Frey
LEARNING FROM VERNACULAR
Zoom link
Pierre Frey is Honorary professor of EPFL-ENAC. He wrote a great book in 2010 with this title "Learning from vernacular: Towards a new vernacular architecture".
He will present a unique collection of models of vernacular architecture he realized with his students at EPFL, highlight the special attributes of these buildings and underline there value.
We will then travel with him through selected contemporary realizations by architects from Africa, Asia, America and Europe that seem to him to constitute a "new vernacular architecture". The emphasis here is on materials available on the fringes of the market, on the safeguarding and development of traditional know-how, on the social role of the architect and on the teaching of architecture.

Welcome to join!

More info:
sc.ibi.ethz.ch/en/education/cas-regenerative-materials
CAS Regenerative Materials Broschüre 2022

Social media:
Videos:
Vimeo: https://vimeo.com/showcase/8368798
Public lectures: https://vimeo.com/showcase/9279484
Veranstalter
ETH
Chair of Sustainable Construction